5. A ROOM FOR EVERY OCCASION

THE ABIGAIL ADAMS BALLROOM
(UP TO 130 PEOPLE)
A beautiful dining room with all the colonial charm of 3 fireplaces, a log cabin and a large adjacent gift shop. A lovely setting for a wedding reception or large party. The room may be divided for smaller groups.
THE ALEXANDER DOBBIN DINING ROOMS
Six cozy historic rooms with authentic colonial decor present the perfect background in our historic town. Ideal for a bus tour on a time schedule. (Limitations of some evenings.)
THE LIBRARY
(10 - 15 PEOPLE)
Your group will love the shelves of old books, warm oriental rug, and glowing fireplace of this completely private room. It's perfect for a club dinner and meeting.
THE DINING ROOM
(15 - 25 PEOPLE)
Two hundred year old wide board floors and beautiful antique decorations help make this room ideal for festive occasions like a birthday party.
THE PARLOUR AND STUDY
(12 - 35 PEOPLE)
Two crackling fireplaces with warm paneling flank this private area. Colonial beauty makes these adjoining rooms just right for a stylish holiday party or anniversary celebration.
THE BEDROOMS
(25 - 70 PEOPLE)
This large upstairs room is perfect for meetings, wedding receptions, and private affairs. The unusual decor, fashioned after the original rooms purpose from the eighteenth century, allows you to dine in canopy tester beds!
THE SPINNING ROOM
(6 - 14 PEOPLE)
A spinning wheel, oak beams, century old coverlets, and other antiques create a romantic and private place for that special occasion such as a wedding rehearsal dinner or bridge club night.
DON'T FORGET!
Along with our charming historic rooms and our famous cuisine, our service is reminiscent of the days when colonial aristocratic society entertained: friendly, prompt, and with a personal attention to detail that makes you are your guests feel like royalty. We invite you to visit and choose the room you like best.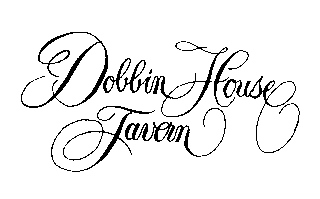 National Register of Historic Places (U.S.A.)
Registered Historic Landmark (PA)
Mobil Guide

Any Questions? Email us
89 Steinwehr Avenue (Business Route 15 South)
Gettysburg, PA 17325
phone:(717)334-2100 fax: (717)334-6905

Copyright © 1996 - 2012 Dobbin House Inc. All rights reserved.