6. GROUP PLANNING PROCEDURES
We appreciate the responsibility you have undertaken to lead a group and attempt to satisfy their individual tastes. This web pages are designed to help you plan your meal with us. We will work closely with you on every aspect in advance. Then we will do all the work, worrying and preparations in order that all you have to do is come, relax, enjoy, and accept the praise of your friends!

As simple as 1, 2, 3!
Call RICK BEAMER or JAN REED for assistance: 717-334-2100.
Plan your visit and make arrangements as early as possible.
Select the menu suggestions that best suite your group.
Fill out and submit the online "Group Information" form.
Read carefully this "Planning Procedures" page that establishes reservation policies.
Please note that banquet menus and prices are flexible. They can be adjusted to the season of year and your groups special desires. We will be happy to incorporate your individual ideas.
For maximum time efficiency, (especially for bus groups), we suggest all members of your party have the same menu.
In order to take advantage of our special group rates, a minimum of 15 people for lunch, 20 people for dinner, and 30 people for buffets are required.
For maximum enjoyment, we have found that your group will be happiest if they are informed of the time table and other arrangements.
A final guaranteed number of the groups size and food choices must be given 7 days before arrival time. Payment will be due on the date of service.
Directions from the National Park Visitors Center: Drive north on Rt. 134 to the stop sign at Steinwehr Ave. Turn right onto Steinwehr Ave. The Dobbin House is the third building on the left. Unload passengers in front of parking lot. Park bus in parking lot to the right of the building.
Banquet facilities are not always possible on holidays and certain evenings, please inquire as to availability.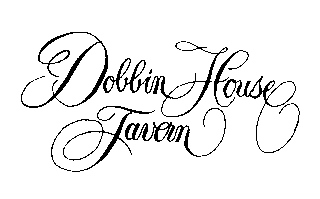 National Register of Historic Places (U.S.A.)
Registered Historic Landmark (PA)
Mobil Guide

Any Questions? Email us
89 Steinwehr Avenue (Business Route 15 South)
Gettysburg, PA 17325
phone:(717)334-2100 fax: (717)334-6905

Copyright © 1996 - 2012 Dobbin House Inc. All rights reserved.