FAVORITE DOBBIN HOUSE SPIRITS
$7.50


RUM BELLIES VENGEANCE,

Dobbin House Speciality






Rum, Coffee Liqueur, Grenadine, Sour Mix



DON'S DERRING DO,

Bartender's Secret Recipe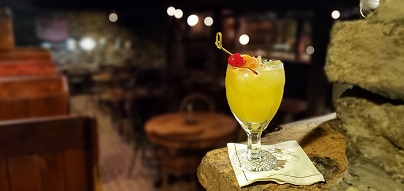 Southern Comfort, Apricot Brandy, Fruit Juices



PHILADELPHIA FISH HOUSE PUNCH,

Popular drink of our Founding Fathers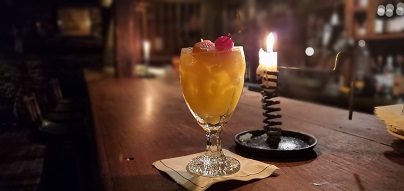 Rum, Peach Brandy, Fruit Juices



GETTYSBURG MULE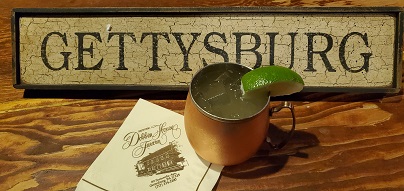 Gettysburg Vodka, Ginger Beer, Lime Juice

CANNON IN THE ORCHARD


Cannon Blast rum, Peach Schnapps, Pineapple and Cranberry Juice



PLANTERS PUNCH


Myers Dark Rum, Lime Juice, Grenadine,

Orange Juice



MELON BALL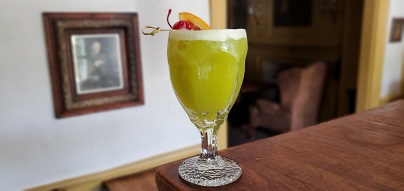 Vodka, Midori, Pineapple and Orange Juice



WASHINGTON APPLE


Crown Royal, Apple Pucker, Cranberry Juice



RUM RUNNER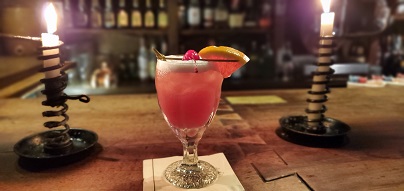 Rum, Banana Liqueur, Blackberry Brandy, Grenadine, Pineapple Juice, Sour Mix



LONG ISLAND ICED TEA


Gin, Vodka, Rum, Tequila, Triple Sec, Sour Mix




FROZEN CONCOCTIONS


DAIQUIRI or MARGARITA


strawberry or mango

$7.50



PINA COLADA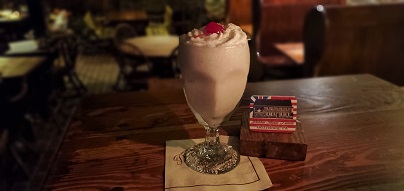 Rum, Pineapple and Coconut Juice
$7.50



FULL SELECTION OF WINE, BEER AND SPIRITS AVAILABLE



HOMEMADE SOUP OF THE DAY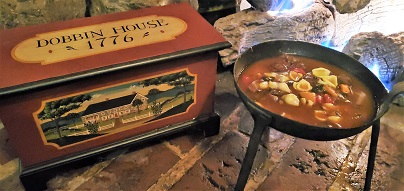 Homemade with the freshest ingredients

Bowl, Market Price

BAKED KING'S ONION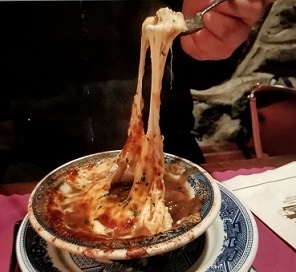 Our highly popular soup with tender beef and a variety of cheeses
Bowl -

$6.50





APPETIZERS



AVOCADO LOUIS



Backfin crabmeat atop an avocado with Sauce Louis, a creamy blend of herbs and lemon

Market Price

SHRIMP COCKTAIL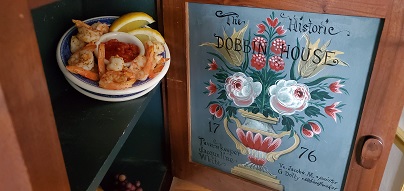 Steamed with small beer and selected seasonings. Served with cocktail sauce

$12.50



FRESH VEGETABLE OF THE DAY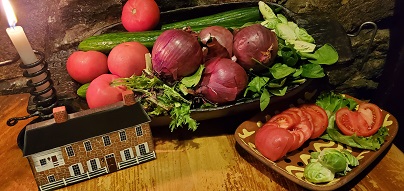 Uniquely prepared with fresh ingredients
$4.95
COMPLETE SUPPERS
Served with a basket of assorted colonial breads fresh from our own bakery, choice of Baked or Sweet Potato or substitute Vegetable of the Day (additional charge) and a house salad with choice of homemade house (herbal vinaigrette), homemade bleu cheese, french, ranch, honey mustard, thousand island or parmesan peppercon dressing. Or you may choose:

CAESAR SALAD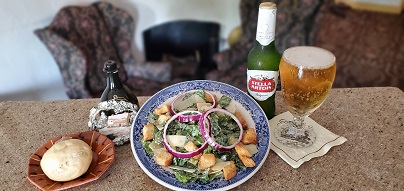 w/ onions, parmesan cheese, croutons, creamy Caesar dressing $2.50
SPINACH SALAD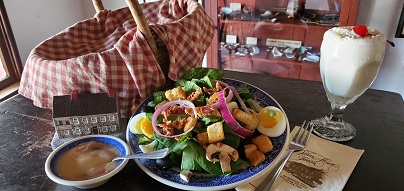 Fresh mushrooms, croutons, bacon, onion, hot bacon dressing $2.50

Our famous Homemade Bleu Cheese Dressing Pint

$6.00

Quart

$10.50


Our Famous Homemade House Dressing (herbal vinaigrette) Pint

$4.00

Quart

$7.00




VEGETABLE ISABELLA



In the tradition of our "Seafood Isabella". Broccoli, cauliflower, mushrooms, tomato and green peppers sauteed in a wine sauce and laid to rest on a bed of pasta

$20.95


BROILED

FILET MIGNON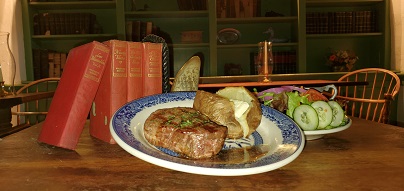 Cooked according to the strength of fire you prefer and served steeped in its own savory liquor

$29.95
Add a 4 oz Maryland Colony Crabcake

$12.95
OF FLESH AND FISH

Includes a 5-6 oz Lobster Tail and a 7 oz Filet Mignon - thick, tender and delicious $42.95
PRIMAL RIB OF BEEF

Melt in your mouth standing beef rib with it's own juice steeped therein $26.95

HAND-CUT 10 oz NEW YORK COLONY STRIP STEAK, CARVED TO ORDER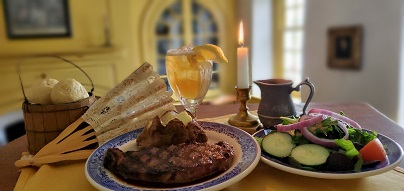 Flavorful and tender, served with it's own savory juices

$29.95


with 4 oz Maryland Colony Crabcake $12.9

5

HUNTERS CHICKEN

Baked boneless breast of chicken topped with tomatoes, mushrooms and handsome brown sauce $23.95

WILLIAM PENN'S PORK TENDERLOIN

Pork tenderloin, broiled and served with an outstanding raspberry sauce $24.95

ROAST DUCK ADAMS COUNTY

Tender 1/2 duckling roasted with tart Adams County apples and hard cider. Served with a cider sauce seasoned delicately with citrus herbs $31.95



OF FISH


SEAFOOD ISABELLA

Fresh vegetables with a medley of scallops, shrimp and crabmeat in a wine sauce simmered until tender. Dished on a plate of pasta $29.9

5





MARYLAND COLONY CRABCAKES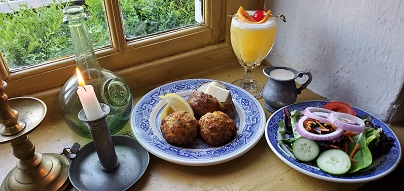 Two 4 oz. lump crabcakes broiled with butter $27.95


CRABMEAT ALA DOBBIN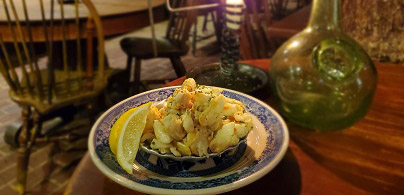 Colossal blue crabmeat tossed in hot butter sauce Market Price

DRUNKEN SCALLOPS



Deep sea scallops sauteed with bacon and herbs, then drowned in Chablis and served in a succulent sauce

$32.95





IMPERIAL CRAB



Lump crabmeat topped with rich cream sauce, then baked to perfection $26.95

GETTYSTOWN SHRIMP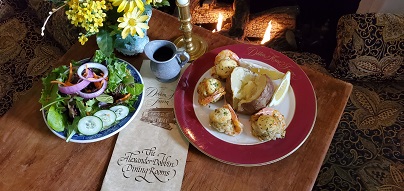 Tender shrimp stuffed with lump crab and topped with rich imperial sauce and baked in a slow oven

$27.95

FRESH CATCH OF THE DAY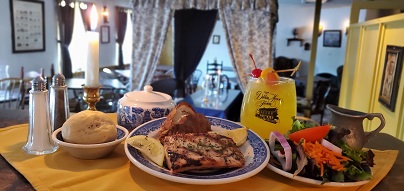 A generous portion at its very best from local streams or distant seas. Ask your servant for today's selection

$26.95
OUR FAMOUS HOMEMADE DESSERTS
Whole pie to go only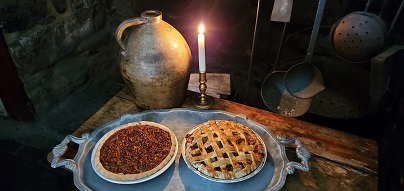 HOMEMADE PECAN PIE
$5.95 / $19.00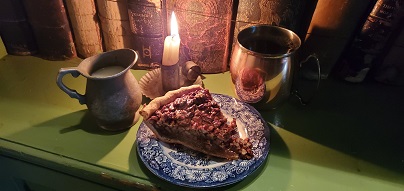 HOMEMADE APPLE PIE $4.95 / $14.00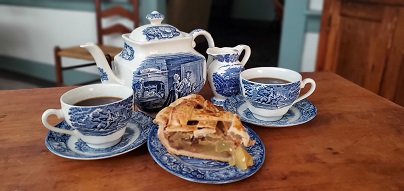 HOMEMADE CHEESE CAKE $5.95 / $26.00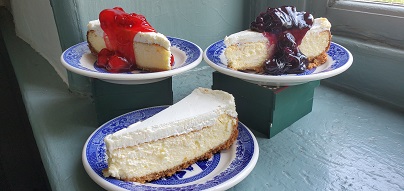 with cherry or blueberry topping $6.25

FUDGE BROWNIE SUNDAE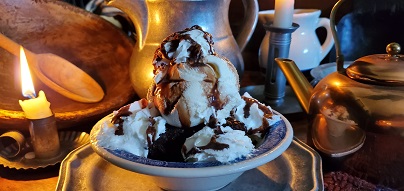 with ice cream and chocolate sauce $5.95
FRESH BAKED WARM COLONIAL GINGERBREAD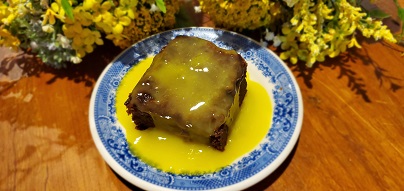 with lemon sauce $4.25
HAGEN DAZ ICE CREAM OR SORBET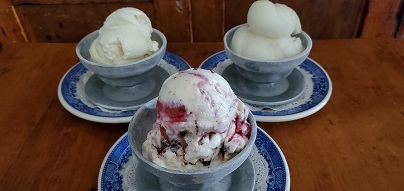 Ask your servant for today's selection $4.25
CHILDREN'S MENU
Served with homemade breads and choice of salad or applesauce


PASTA WITH TOMATO SAUCE $8.50


BAKED LIGHTLY BREADED JUMBO SHRIMP
Includes a baked potato
$12.50
CHICKEN TENDERS
Includes a baked potato
$9.25
BEVERAGES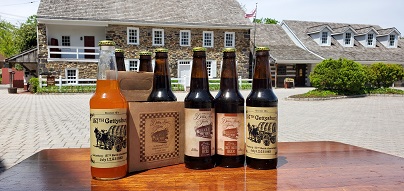 DOBBIN HOUSE ROOT BEER, DIET ROOT BEER $3.25

157TH ANNIVERSARY SARSAPARILLA $3.25

157TH ANNIVERSARY ORANGE CREAM SODA $3.25

BOTTLED WATER $1.00
ICED TEA $2.50
LEMONADE $2.50
COKE, DIET COKE, SPRITE $2.50
COFFEE, TEA $2.50

BEER & HARD CIDER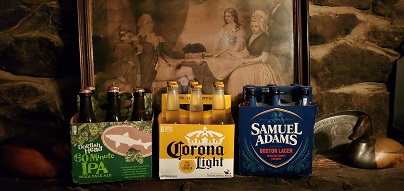 WYNDRIDGE HARD CIDER Dallastown, PA $4.75

TROEGS SEASONAL Hershey, PA $5.00

YUENGLING LAGER Pottsville, PA $4.50

BLUE MOON $5.00

DOGFISH HEAD 60 MINUTE IPA $4.75

SAM ADAMS BOSTON LAGER $5.00

SAM ADAMS SEASONAL $5.00

STELLA ARTOIS $5.00

GUINNESS $4.75

CORONA LIGHT $5.00

BUDWEISER $3.75

BUD LIGHT $3.75

COORS LIGHT $3.75

MILLER LIGHT $3.75
DOBBIN HOUSE GIFT CARDS
A Great Gift for Your Best Friends!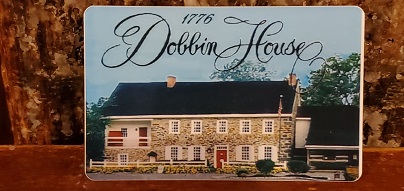 HOURS
Open Daily 5:00pm - 9:00pm