Historic Dobbin House Tavern
Samples of Menu Items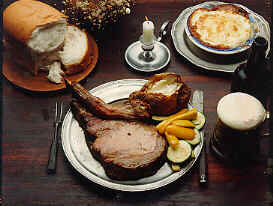 Primal Rib of Beef
Melt in your mouth standing beef rib, cooked to your choice of doneness in a reflector oven with its own juice steeped therein. James': The larger portion goes to Dobbin's favorite son for being the first attorney to be admitted to our new county's bar. Smiths': The regular portion goes to Dobbin's stepson who's in trouble because he carved his initials (S. A.) on the mantle in the parlour.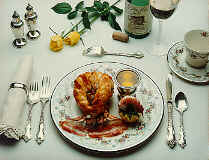 Broiled Lobster Tail
Reverend Dobbin often journeys to Philadelphia for Synod Meetings. He delights in returning with sea animals that Mrs. Dobbin loves to cook over a clear brisk fire for family and friends just like you. This dish tastes admirably well. A favorite of this area, which Rev. Dobbin now calls "Gettystown"!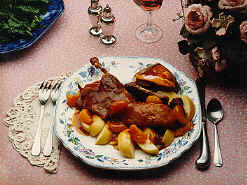 Roast Duck Adams County
President Adams is proud of this tender 1/2 duckling roasted in our hearth oven with tart Adams Co. Apples and hard cyder. Served up just right with a delicious cyder sauce seasoned delicately with citrus herbs. A true taste delight.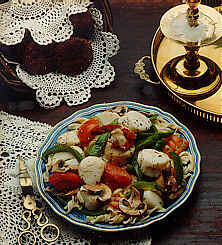 Seafood Isabella
Truly worth coming miles for.... Rev. Dobbin's first wife, Isabella, left him this secret family recipe. Made of fresh vegetables with a medley of seafood's in a wine sauce, then simmered over hot embers 'til tender. Dishes up on a bed of pasta. It answers well.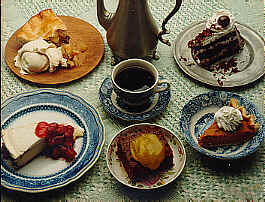 Homemade Desserts
For your complete dining pleasure, our entire menu is prepared from the finest and freshest ingredients with imagination, expertise and versatility to provide a unique dining experience.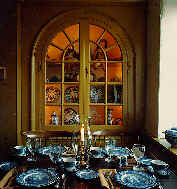 Entertaining
The Dobbin House has been a center for activities for over two centuries. The house tradition of providing a rich background for social and civic gatherings, and of serving superb food, continues in a splendid manner. We invite your inquiries regarding our banquet menus, famous to this day.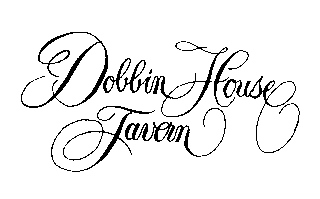 National Register of Historic Places (U.S.A.)
Registered Historic Landmark (PA)
Mobil Guide

Want more information: Email us
89 Steinwehr Avenue (Business Route 15 South)
Gettysburg, PA 17325
Phone: 717-334-2100 Fax: 717-334-6905
Copyright © 1996 - 2012 Dobbin House Inc. All rights reserved.